Marquis Jet Card Cost
The Marquis Jet Partners were purchased by fractional ownership company NetJets in 2010. Since then, the Marquis brand has been the forerunner for NetJet's Card program. The Marquis program offers access to the NetJet's fleet of aircraft 25 hours at a time. There are several restrictions to the Marquis card program. These restrictions are highlighted on the Marquis Jet Card agreement found here and the Marquis Jet Card Terms and Conditions found here. It is important to note the differences between the NetJets Fractional Program and the Marquis Jet Card
25 Hour Card Savings
$25,400
25 Hour Card Savings


$51,500
25 Hour Card Savings


$55,900
25 Hour Card Savings


$134,900
*All competitor prices are extrapolated from company marketing materials by mathematically calculating hourly rates and expanding the rates to 25 hours. Prices are subject to fluxuations and additional fee's may apply. Always consult legal advice before entering a binding contract. Sky Routes savings per card assumes all routes are flown as Sky Routes.
The Marquis Jet Card cost $155,900 for 25 hours in a Light Jet plus fuel surcharge, taxes and other fees. A Marquis Mid-Size will cost $207,900 for a 25 hour card. A Marquis Jet Card Super-Mid will cost between $235,900 and $282,900. This cost extends all the way up to $374,900 to buy into their Heavy Jet Card. Competing jet card programs can cost six figures less than a 25 hour Marquis card. Sky Routes members have access to the same aircraft type, age class and
safety
features which a Marquis member would enjoy. Request Sky Routes program details
here
!
SWITCHING TO SKY ROUTES JET CARD CUT MY COSTS BY

30%

-David Head (Sky Routes Client)
Sky Routes vs. Marquis Jet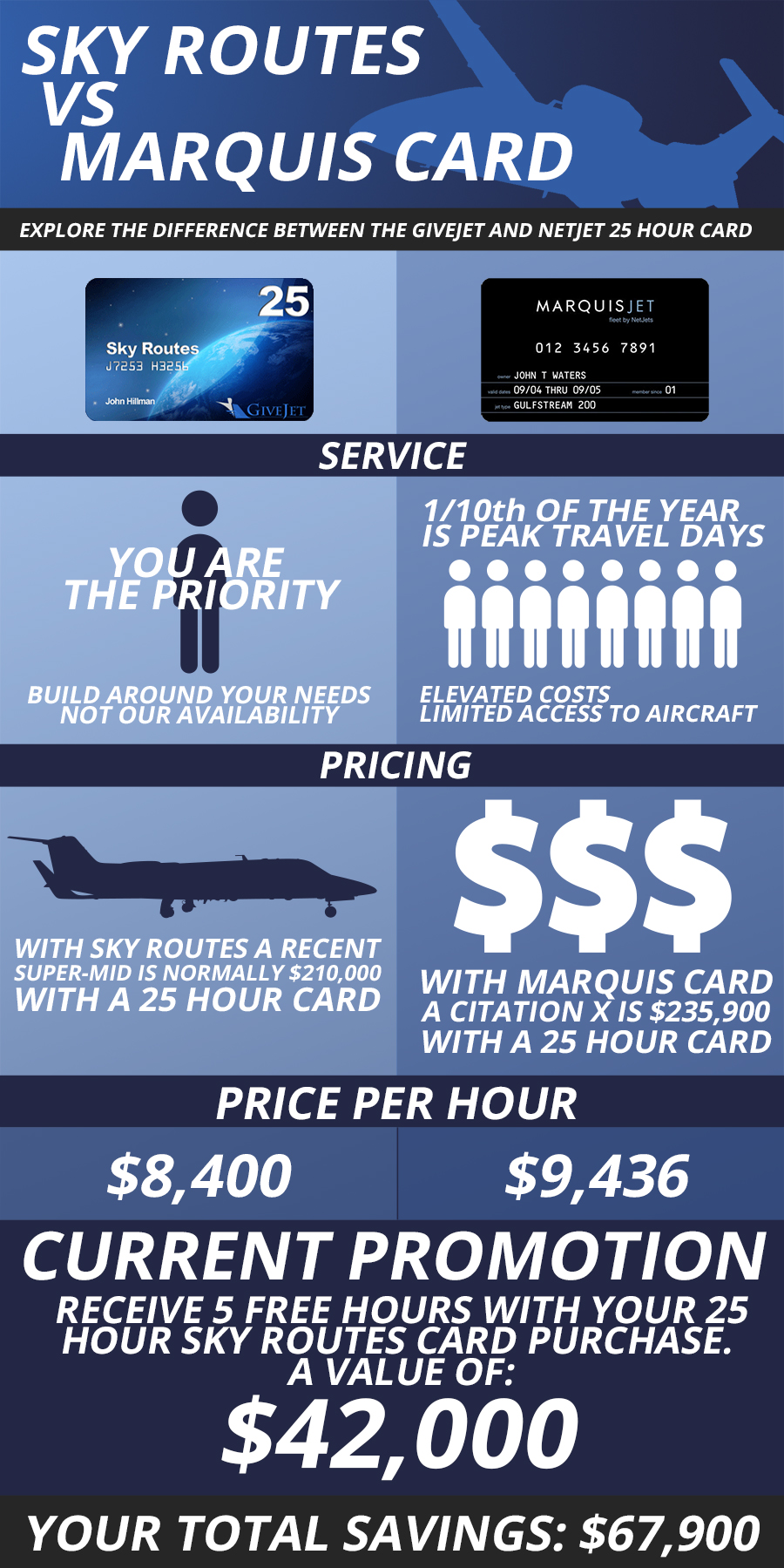 Share this infographic with your colleagues who need a new flight option!